Being featured on My BEST Dentists (MBD)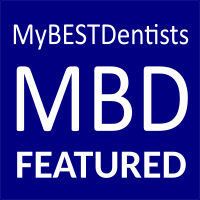 We are all in this together!
MyBESTDentists.com wants to feature your dental office with the hope this added attention will help your business. PPE by UjENA will cover this marketing cost by just being a client. Our goal is to provide you and your staff with quality PPE products and give back to your business in marketing exposure. A win win situation. (Otherwise all dentists in the United States are giving a free listing but being featured will bring more attention to your business. We have over 110,000 dentists listed.)
Dentists are a higher-risk profession for COVID-19. A New York Times study found dental practitioners to be among the highest risk health care workers. Many procedures, such as drilling or ultrasonic scaling, send germs in the mouth into the air. The dentistry world has changed. There is an immediate need for more protection.
UjENA has been a sportswear manufacturer since 1984, shipping quality product all over the world. UjENA wanted to help be part of the solution by providing quality PPE prodctus (first with gowns) to you and your staff and as an added bonus provide this added marketing to help your practice.
"Anything all of us can do to help stop the spread of COVID-19 will help in my opinion," says MBD and PPE by UjENA founder Bob Anderson.
The current times have taken a toll on all businesses. This toll has pushed us to think differently about how we run our businesses and how we connect with our customers. We have new rules and we need to rebuild. As a sportswear manufacturer who has been in business for 36 years, we understand the value of making your business run and adjusting to change.
PPE by UjENA was started April 9, 2020 as a division of UjENA. We first manufactured cloth face masks and added PPE Isolation Gowns for dentists on May 14. We've designed a washable, reusable, water resistant PPE gown with your business in mind... and, unlike any other supplier you have worked with, just by being a client, you will not only get great products but we will also give back to your business in marketing exposure... YES, you read that right, just by being a client we will also feature you on My BEST Dentists. And you don't have to do anything. If you have a website, our editorial team will pick up copy and photos there for your profile. If you want anything special, just let us know. Or if you would rather not have this free exposure, just let us know that as well.
Building a My Best Dentists Community
Here's the part we are really excited to share ... As a sportswear and marketing based company, we understand the importance of a good marketing plan. When our team researched, designed and developed our original PPE gowns, we thought... HOW, can we make this product different and bring more value to Dentists? We know that your business has been hit and we want to do something to help.
Just by being a PPE by UjENA client, you are part of the community of Dentists that are committed to the health, safety and protection of your staff and patients. And we want to feature you on MBD.
Being featured will give potential customers not only your specifics; your address, name, lic number etc, but also photos, video if you have it and a write-up on you and your office... it's an opportunity for new or existing patients to get to know a little bit more about you.
Now, you might be thinking? Wait... hold up, are these PPE products over the top expensive? What's the catch? No catch. Our pricing is the same as what you might pay somewhere else. And we have already produced original new product too. Like our Universal Isolation Gown with the collar for added protection. The Royal Blue color is our best seller.
Why are we doing this?
Simple. The world has changed. How we do business has changed. Since 1984, our business has been manufacturing sportswear and swim wear. We understand that oftentimes, our business needs to evolve quickly with new normals. We have a factory in Mountain View California and a much bigger factory in La Piedad Mexico. We know the apparel business, marketing and the internet business. Now the challenge is to get to know the dental world. "We want to help Dentists handle these challenging times," says Bob Anderson, MBD and UjENA CEO and founder. "I have spoken with lots of dentists already and am reading a lot about this exciting profession. It is just a beginning. You are the stars, we just want to bring in our experience to help out."
A little history on the founder:
Before UjENA, Bob Anderson founded and published Runner's World magazine for 18 years. He started RW with $100 while he was a 17-years-old runner wanting to run the Boston Marathon. He grew readership to over 2.5 million monthly before selling it in 1984. Bob finally ran the Boston Marathon in 2013 and clocked 3:32:17 for the 26.2 miles. He currently runs and walk at least 30 miles weekly much of it now with his little dog Daisy. He started the UjENA apparel company in 1984 and have shipped his unique product all over the world.
So how did this all get started?
Dr. Daniel Araldi (photo above) was frustrated with his current supplier, the quality was not what he wanted and he said an added collar would be great. We made him a sample, he loved it and here we are! Since then, Bob and Catherine Anderson (Catherine is our designer) have had the pleasure of talking with dentists from all over the United States.
Bob said, "Every single dentist I have worked with has been nothing short of amazing. I knew instantly that we wanted to get involved in the dental workd."
Catherine is designing new PPE by UjENA products and we are committed to make our website MyBestDentists.com a site you will be proud to be part of. Special thanks to our webmaster Waitman Gobble who has been on our team for over 15 years. He's been working non-stop on designing the website and building out search capabilities to get you visible in the search engines. MBD just went live June and we are just at the beginning of getting known. That will come.
Let's get you featured on our My BEST Dentists website. By just being a PPE by UjENA client, we will get you featured. You don't have to do anything else. Our editorial team will set up your profile.
And, that's our story, our product and offer to YOU!
Place your any size order at www.PPEbyUjENA.com and we will do the rest. There is no additional cost to you to be MBD featured.
Recently I got this text from one of our first 93 dentists who signed up. "Hi Bob, You Rock! The gowns arrived today. They are awesome! Everyone loves the neck. We are going to order more in the future when the black and grey colors become available. Let us know please. Thank you! we will spread the word."
Dr Danielle Wehle texted and said "I love these gowns. They are comfortable, stylish and a Beautiful color (Blue)."
Be and stay safe.
To Contact us:
Bob Anderson
CEO/Founder UjENA (1984) PPE by UjENA (2020)
Editor and Publisher of MyBestDentists.com (2020)
bob@ujena.com Office 650-938-1005 Cell 650-400-6643
Catherine Anderson
UjENA VP/Designer and Customer Service Director
PPE by UjENA Product Designer
Catherine@ujena.com Office 650-938-1005