Shannon Barker has offices in Mount Pearl,, NL A1N 1X6 and is a licensed Dentist in the state of CANADA. For more information and to set up an appointment call 709-364-6185. License #.
First Street Dental
First Street Dental has served the Mount Pearl and St. John's areas since 1988. Our team of 23 dedicated professionals have the skills and ability to achieve the results you're looking for- whether it's a simple procedure, or a life changing transformation.
A beautiful, healthy, youthful smile can provide the gift of confidence. The results are immediate. We have helped hundreds of patients just like you, and we can help you, too.
As your St. John's Area dentist, we invite you to enjoy our comprehensive website. If you don't find the answers you're looking for, please don't hesitate to contact us. We'd be happy to schedule a consultation so that we may have the opportunity to thoroughly answer your questions.
As a dentist in the St. John's Area, our philosophy is simply "The Patient Comes First". We practice gentle dental care and try to ensure that each visit to our office is a pleasant one.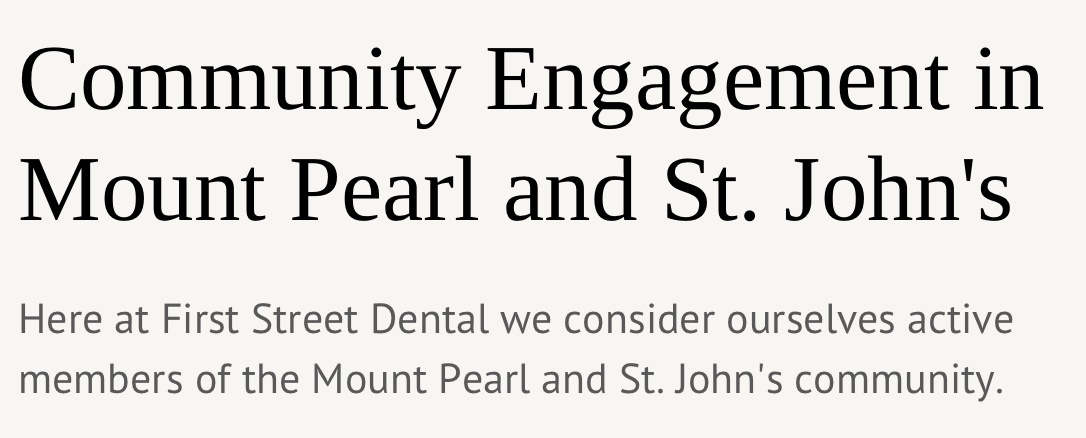 MEET DOCTOR BARKER
Dr. Barker was originally from St. John's but raised in Labrador City Canada.
After completing undergraduate studies at Memorial University and the University of Prince Edward Island, Dr. Barker graduated from the Faculty of Dentistry at Dalhousie University in 2001.
Upon graduation Dr. Barker joined First Street Dental.
Dr. Barker has continued his dental education taking courses in the fields of orthodontics, endodontics (root canals) and restorative dentistry.
In 2006 Dr. Barker became a partner at First Street Dental and looks forward to providing the best dental care possible for his patient family.