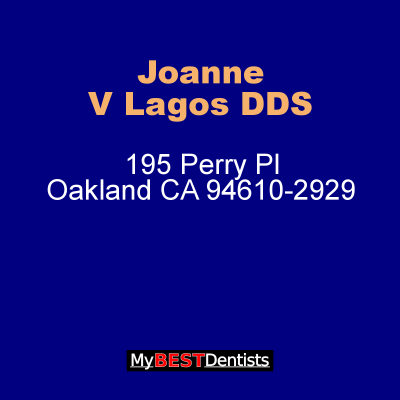 Joanne V Lagos has offices in Oakland, CA 94610-2929 and is a licensed Dentist in the state of CA. For more information and to set up an appointment call 510-444-0583. License #29836.
Joanne V Lagos DDS, MSPH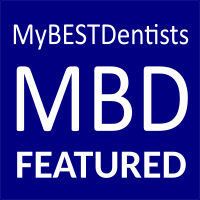 Joanne V Lagos
195 Perry Pl
Oakland CA 94610-2929
510-444-0583
License: 29836 CA
Oakland's Joanne Lagos DDS offers quick and professional dentist services, such as X-rays, cleanings, and fillings. When your smile needs some aid, this dental clinic can help with services like check-ups.
Head to Lagos Joanne V Dr DDS in Oakland for your next dental cleaning and leave with a pearly white smile. The staff at this dentistry is here to provide you with the best dental care in town.
This dental clinic's amazing services are ready for you. Just be sure to make an appointment first. When you're ready to take the first step toward a healthier and cleaner mouth, call up Lagos Joanne V Dr DDS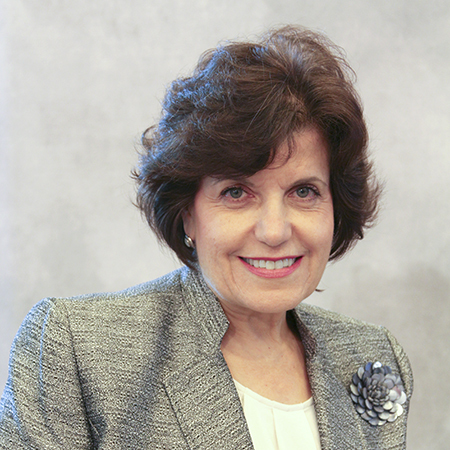 MEET DOCTOR LAGOS
Joanne E Lagos has a General and Cosmetic Dental practice in Oakland, California Degree: Doctor of Dental Surgery, University of the Pacific School of Dentistry San FranciscoMasters of Science in Epidemiology, University of Illinois ChicagoBoard of Trustee, California Dental AssociationAlameda County Dental Society--President and Board MemberAlameda County Dental Society Dental Health Foundation--President and Board MemberChairman, Ethics Committee for Alameda County Dental SocietyUniversity of California School of Dentistry--Assistant Clinical ProfessorAdvisory Board, Alameda College Dental Assisting ProgramAmerican Dental AssociationCalifornia Dental AssociationAlameda County Dental SocietyFellow, American College of DentistsSpear InstituteAcademy of Aesthetic and Adhesive Dentistry